Add Color to Rooms in Bangor, Maine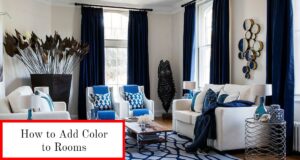 You love color but your new rental is all neutral or white and you cannot change the color on your walls. No fear! There are many simple, inexpensive things you can do to showcase your taste! Each room is like a blank canvas waiting for your masterpiece creation in Bangor, Maine.
Color creates the ambience for your living space. You can go as wild as you want, like a yellow couch or orange chairs. You can be as subtle as a simple accent to capitalize on the furnishings you already have to build a new warm space. Whatever your taste for color there is a way to bring it into your new neutral colored rental.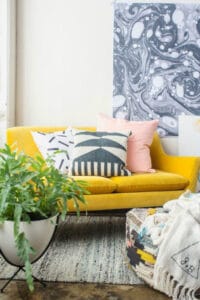 Living Room Color
If it's time for a new living room couch or chairs, consider a bold color ~ let's use yellow as an example. Yellow is bright and sunny, and it will add a great splash of amazing color. Compliment the sunny yellow color with some live greenery and simple black and white accents. Your room will glow like a bright summer day! Choose a few yellow accents or leave your couch as the centerpiece. If yellow isn't your color choose one that is and go bold!
Let's say a new couch isn't in the budget. There are several options to add some color to your space. First, consider adding colorful cushions with matching curtains and a simple accent rug to brighten any neutral space. Next, using those neutral wall colors to an advantage makes it easy when you add artwork. With your new color scheme in mind, choose artwork with shades of your primary color or contrasting colors in them. You can be creative with shapes and textures, simple scenes or objects. Single paintings or groupings can really bring a room together. Lastly, using complementary colors will bring harmony to your new space.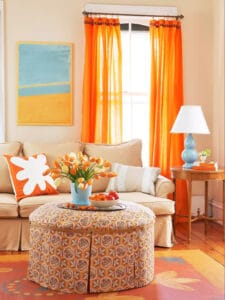 Window Help
Don't have a lot of money to spend as the move drained your savings? Consider one bold statement piece like new window dressings. Choose one that compliments your existing furniture. This will add a whole new dimension to your space with this easy update to your curtains. Color at your windows can change the hue in your room when the sun is shining through them. Sheer curtains add the most light but add little to privacy. Find the type of curtain that suits your needs and then choose a color that adds the most balance to your space.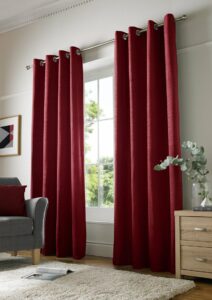 Hint: Consider using textures to add interest to your space.
Not sure where to begin? An easy option is using the internet to find a style you love and mimic that feel with some internet window shopping. Searching through a housewares section for inexpensive accessories is a great way to find a scheme that suits you. Once you find a piece look for other accents with the same shade. Spread those items throughout your room to tie it all together for a subtle pop of color. Bedding colors can be used to contrast your choice or to add more pop to your room. To add an extra dimension to your space consider adding textures like wicker baskets or dried flowers with large textures.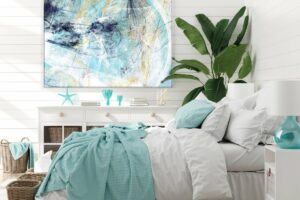 Kitchen Color
Bringing a bold statement into your kitchen can update it instantly from a blah space to a wow space! Imagine how eye catching a red accent would be on white or beige walls. Red for a spicy new kitchen! A few simple changes will make all the difference.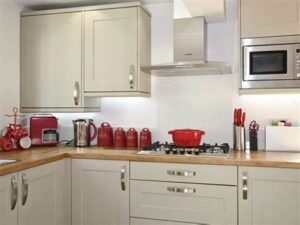 Bold Bathroom Statements
Bathrooms can be an oasis. Certainly the most focal point in your bathroom is the shower curtain, find one that you love. They can be whimsical or bold. Next, shop for accessories that share a color or a contrasting color in your shower curtain. Then build on that color with towels, rugs and other bathroom accessories. As always consider using black as a contrast to the stark white walls and bathroom fixtures. In addition, choosing black as the contrasting color has an added benefit, as it goes with nearly every choice for a bathroom shower curtain. Most importantly if you want a simple change, buy a new shower curtain and instantly update your space!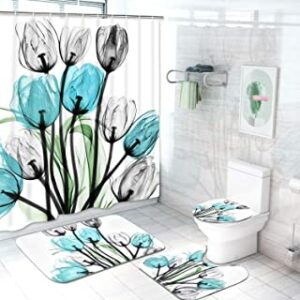 To sum it up, color is easily added to any room using accessories or even a main furniture pieces. Therefore, use your imagination and let your style shine through. Most importantly use textures, as well as window dressings to update that neutral space into a showcase. Whatever your style, colorful accessories will make your new rental feel homey and like a sanctuary in no time!