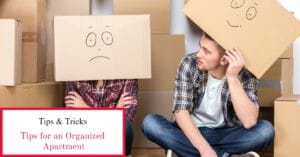 Tips for an organized apartment will help with small to large projects. If you have recently moved into a small apartment or you are undertaking a large decluttering project, it is going to take some time to get it right. Be patient with the process and take it one room at a time. Find practical locations for belongings by working one room at a time. If you overwhelm yourself, you will be hasty and simply throw things in random places, which will not help your cause. As you go through your belongings to find them a permanent home, reassess the value of that item and make sure that you still need it. Make a pile or box of unwanted or unused items that you can donate store away in self-storage, or throw away. Working in this method will help prevent keeping things you will never use. Also, you should consider creating a box for sentimental items that you know you will never want to get rid of. This way, you can continue adding to it as time goes on as you make more important memories. 
Organizing Tips:
Most people know how small apartments can be. We all know small spaces come with clutter, and an unorganized mess! How can we have a calm mind, and easy-going life with a cluttered home? It is impossible. So here are a few tips to keep a small living space like an apartment organized, tidy, and clutter free.  
1.Utilize your wall space as much as possible. For example, shelves you can take down and put up anywhere.  
2.Get a shoe rack so you can organize your shoes, so you are not scrambling around to find the matching shoe when you are already late.  
3.Coffee tables that turn into a trunk, you can store blankets, pillows, and other items in to minimize the over clutter look. Storage bins that are drawers for clothing, papers, makeup and much more.  
4.For the kitchen keep an inventory of food, so you do not over stock and then it becomes a messy house. Get plastic containers for the food, so you can stack them in the cabinet. Minimize the cooking utensils to what you need. Use hooks for pans and pots
Additional Organization Tips:
5.Bathrooms use shower hanging bags that your shampoo and body wash can go into. Keeping it clean make sure you use things that are either metal or plastic, so it is easy to wipe, and clean. Use stackable storage containers for towels, makeup, and more.  
6.If your hamper is always full, clothing will overflow on to the floor or a nearby chair. Why not prevent the problem by buying an extra-large hamper that offers plenty of room for a week's worth of dirty laundry? 
7.In the bedroom make sure the bed is always made. Use hideaway storage containers that go in the small spaces like in the closet, or under the dresser, hang shirts and pants on the same hanger so you have your outfits ready in one grab. Whatever you do not wear, donate as much as possible. Keep the dresser drawers organized by folding them neatly. And put the clothes in the correct drawer.  
8.Do not forget the mail. Is the coffee table or dining room table covered by stacks of unread mail? Mail can pile up quickly. Soon, that small stack becomes an unwanted monster stack too large to tackle. Sort your mail daily and immediately throw the junk mail into your recycling bin. Next, place bills and correspondence on your desk for processing. Lastly, place important documents in your files.
Cleaning Top to Bottom
Ideally, weekends should be spent relaxing and doing the things you enjoy. Unfortunately, unless you have a staff to clean your home, some portion of the weekend will be devoted to cleaning. Procrastination is your enemy hence it is best to create a schedule. It is easy to overlook the tiny details when you are in a hurry to finish cleaning. Clean top to bottom 
You will create more work for yourself if the last area you tackle when you clean is the dust at the top of the refrigerator. Cleaning the highest points in a room first will help avoid recleaning the counters and floors. Nobody likes to do a job twice! Today's technology can assist with household cleaning. If time is in short demand, consider buying a robotic vacuum. Robots work on carpets, tile and hardwood floors and can be set to run while you are asleep or at work. They can even be controlled remotely with your smartphone. Other high-tech gadgets, such as self-cleaning blenders and HEPA air filters, reduce the amount of cleaning you will need to do. Air filters remove dust and allergens from the air. Starting early is another way to gain valuable time. Ideally, weekends should be spent doing exactly what you want when you want. Unfortunately, most people do not have a staff to clean their home, therefore, some portion of the weekend will be devoted to cleaning. Setting aside some time first thing on the weekend will allow you to clean your apartment and have the rest of the day to do as you please.
contribution by guest blogger Devon McGill with edits