8 Storage Hints for Small Rentals in Bangor, Maine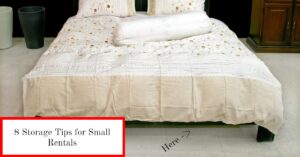 Oftentimes rentals do not offer adequate storage. Therefore, finding hidden spots for storage will help alleviate clutter in your rental. Some common places that are overlooked for storage in a rental are listed below. These storage hints will help you optimize your living space in Bangor, ME. As an option, you may need a self-storage unit.
Storage Hints #1: Under the bed:  
Under the bed is often overlooked because the space is very limited. Therefore, find some plastic totes with lids that are just deep enough to slide under the bed. This space is great for storing winter clothes in the summer and summer clothes in the winter. It can also be used to store craft or hobby materials which makes them easily accessible for a project. In other words, your craft materials are not out cluttering up your space.  
Storage Hints #2: Hallways:

 
Find shelving options that is narrow enough to give you added storage space but not interfere with your travels up and down the hall. A bookcase would be ideal. This is a great location for books, paper, towels and washcloths especially if your bathroom doesn't have a linen closet. You can be creative with some small baskets to keep folded washcloths in or to use as a cubby for scissors and pens. This is helpful, if you don't want it to look untidy
Storage Hints #3: Closets: 
If your closet has a door, use this overlooked place to add storage options. You can find many tools like an over the door closet cubby system. These are often inexpensive and add a lot of storage space in your closet.  Most closet cubby options are under or around Thirty dollars. These systems can be added to any closet linen, pantry or broom closet. The cubby system depth is only limited by the space between the selves and the door. Be sure to measure the allowable space before you purchase a unit.  To add more space in your closet consider hanging another rod from the stationary one in your closet for another level of clothes storage. 
Storage Hints #4: Odd and End places: 
Look around your rental. Is there an unused space between your stove and refrigerator? Would a small caddy fit there? How about the space between the washer and dryer? Look for these spaces and search for a storage solutions to fit the space. If no solutions are available, have a custom-built sliding or rolling cubby made for your space. These hidden spots are great for cleaning supplies or dryer sheets and laundry detergent! Whenever you utilize these new storage spots it will oftentimes declutter your small closet. 
Storage Hint #5: Behind the couch: 
Look at how your living room is arranged. If you have space between your wall and the back of your couch, think about purchasing a shelf unit that would fit behind your couch. You could store things there that you barely use. It would be perfect for photo albums and other rarely used things. This would also add a shelf behind your couch for a lamp or a plant.  
Storage Hint #6: Under the Couch: 
Some style couches have a space under them. Find a covered tote that will slide under the couch, this will offer you a storage option that will be easily accessible. Great for kids' toys, Legos, and craft items. One of the added bonuses for utilizing these spaces with totes, when it comes time to move these items will already be packed and ready to move! 
Storage Hint #7: Coffee table: 
When purchasing a coffee table consider one with a draw in it or one that offers hidden storage in the base. These are great for keeping extra blankets for snuggling on the couch or various other items that would add clutter to your living room. The little draw would be ideal for TV remotes or extra batteries.  
Storage Hint #8: Consider Vacuum Sealing: 
Consider the space saving benefits of vacuum sealing your extra bedding or seasonal clothing. First, these systems can be as simple as a hand pump for under Twenty dollars up to electric systems going for Forty to Sixty dollars. Secondly, consider the cost of the bags to determine which system works best for your budget.  Moreover, the space it saves in your closet will astound you! PRO TIP: To keep things smelling fresh and clean, while being stored, fold a dryer sheet in with the items being vacuumed. 
Armed with these few storage tips, you will soon visualize where to find additional space in a small rental. Be creative and hang a net in the corner of your child's room to store their stuffed animals or use a wooden coat hanger with coffee cup hooks screwed into the wood, to hang all your belts and scarfs in one place. In conclusion, if you still have more possessions and don't want to have your rental looking cluttered, as always you can opt for a small unit at your local self-storage facility!