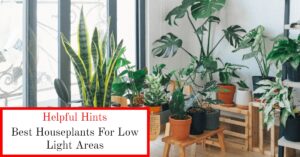 Sometimes choosing a low light houseplant can be challenging. First there are some important questions to ask yourself. Would a low light houseplant be best? How much light does the plant need? How often does it need to be watered? Does it require particular care? Secondly, will you have enough time to take care of the houseplant. For example, are you away from your home for extended periods of time? This is an important consideration when choosing a houseplant. If this is the case, choose a plant that likes to dry out between watering or requires little water to survive. Most importantly, if you have pets, is the plant safe for your pet. Think about the plants requirements before choosing one for your environment. Therefore, be sure to consider all the questions before deciding on a low light houseplant. 
Light Explained: For Low Light Houseplant Needs
Every plant has a light requirement that it thrives in, but this does not mean it cannot live in other light levels. In other words, low light houseplants can live in moderate or indirect light situations but typically do best in low light areas. Whereas a high light plant would wither and die in a low light environment. Therefore, knowing what your light situation is in your home is crucial to choosing a plant.
The best guide is to go with window placement. Typically, a South or West facing window is a high light zone. An East facing window is indirect or filtered light and a North facing window is a low light zone. Other factors play into the actual light such as, overhangs, trees and other buildings blocking the natural light. Most apartments only have a few windows which means a low light situation. Therefore, we will focus on a low light houseplant for your apartment.  
Pet Friendly Plants for a Low Light Situation 
The following plants are all pet friendly and do not require a lot of light. Some as we discussed will do well in indirect or filtered light situations as well. Each plant listed will have tips on care and maintenance. Therefore, choose the best option for you when you buy a low light houseplant.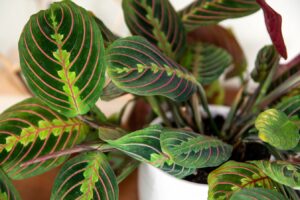 Calathea also known as the prayer plant. The leaves fold up over the plant at night giving it the appearance of hands in prayer. Hence how it received its name. Prayer plants like consistent moisture. They do not like to dry out between watering therefore check the soil between watering to monitor moisture. This is important during the seasons change because their watering needs change depending on the heat and humidity levels in your apartment. They also do not like standing water in their pot. Calathea will tolerate most light levels, in direct sunlight the color on their beautiful leaves will fade.  These are great low light houseplants.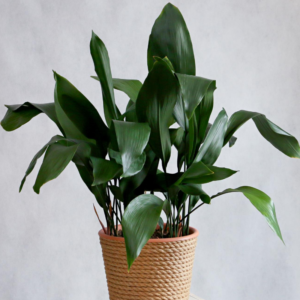 Cast Iron Plant got its name because it is tough and hard to kill. It grows very easily in low light and as a bonus is not water fussy. Therefore, this low light houseplant is ideal if you are gone for extended periods of time or have a busy schedule and not a lot of time for watering.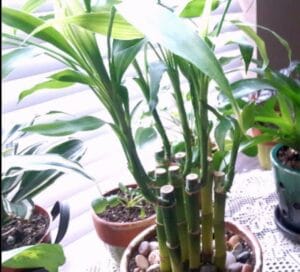 Lucky Bamboo is a great option. It can stay in water forever or you can plant it in soil. If you opt for keeping it in the water, be sure to change the water weekly and add a light liquid fertilizer occasionally especially if you see the leaves turning yellow. Another option is to add a Betta fish to the water and the fish will fertilize the plant naturally for you. If planted in soil be sure to keep the soil moist.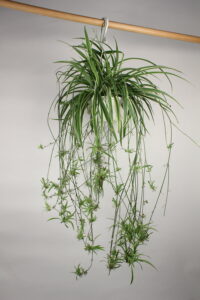 Spider plants are great hanging basket plants, or they can sit on a stand. They like well-drained soil. Therefore, watering weekly is important. If you notice the color fading on the leaves do a light fertilizer to bring the color back. These plants generate babies. The babies propagate easily. Snip the baby from the main plant, place in water until roots grow and then transplant into a planter. If it already has white nodes on the base of the baby, you can plant it in soil and keep the soil moist until the roots develop. As a bonus spider plants are fantastic air purifiers.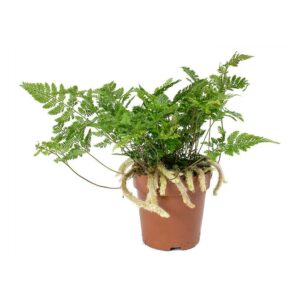 Last in the low light houseplant for pet friendly households are ferns. Ferns come in many varieties like the rabbits' foot fern pictured but also include ferns like the bird's nest fern, Boston fern and many more. These plants thrive in a bathroom's steamy environment. They love humidity and moisture. They do not like to dry out so keep the soil moist. As with the spider plant is also a fantastic air purifier. 
Great Low Light Houseplant that is Air Purifying but Not Pet Friendly
The next group of plants are great air purifiers for low light areas but are considered toxic to pets. If you have a pet, please use caution when adding these to your home. Keeping the plants out of the pets' reach is always an option. Therefore, think of a location for this low light houseplant if you decide to add it to your home.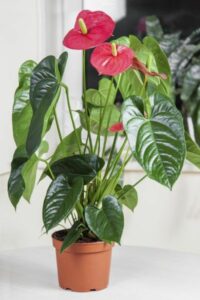 First is the Anthuriums they are well known for their waxy feeling leaves and bright red, pink, or white blooms. They like to be kept consistently moist. When you see dust or dirt on their leaves, they love a trip to the shower for a rinse. If a shower is not an option, use a damp lint free cloth to wipe the leaves clean. As an air purifier it is best to keep the leaves clean so they can do their job.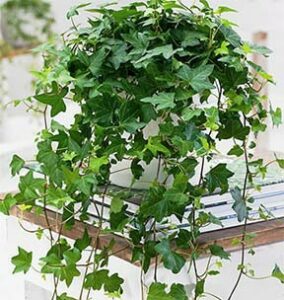 Next in the air purifying group is ivy, both the English and Algerian varieties are commonly found in most shops for sale. They like to dry out between watering. Ivys remove toxins, mold, and fecal matter from the air. What a great plant for the bathroom!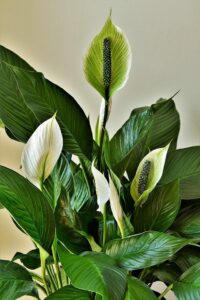 Third plant in the low light air purifying group is peace lily or Spathiphyllum, Spath for short. Peace Lily's love water! You cannot overwater this plant, but they also do not like standing water remaining in their pot. Make sure there is enough drainage for them. Peace lilies like rich organic soil therefore they like to be fertilized during the warmer months. They bloom easily and the blooms last a long time. To promote flowering move to a brighter location but avoid direct sunlight. Direct sunlight will burn your leaves causing them to turn brown. They remove toxic gases from the air such as carbon monoxide and formaldehyde. Peace lilies are a great low light houseplant.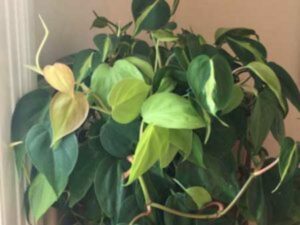 The next plant on our air purifying list is philodendron. Philodendron is an easy growing plant with heart shaped leaves. It is often confused with a phothos. Philodendron like to dry out between watering and if you notice the leaves turning yellow the plant is getting too much water. Let it dry out more before watering again. On the other hand, if the leaves are turning brown it needs more water. Hint: if the trailing branches become leggy the plant is not getting enough light. Move it to a brighter location.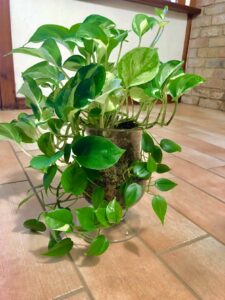 Last plant in the air purifying, low light category is the pothos or devil's ivy as it is often called. It is remarkably like the philodendron in care. They like to dry out between watering and is more drought resistant then the philodendron. The easiest way to tell the two plants apart is the leaves. Philodendrons have heart-shaped leaves which are thinner than the pothos whose leaves are thicker and waxier than the philodendron leaves. Both plants remove toxic gases including formaldehyde, carbon monoxide, and benzene! 
Low Light Houseplant that are Toxic to Pets
The low light plants in this section are easy to grow but be aware they are toxic to pets. Most plants purify the air as they take in the carbon dioxide we breathe out. So consequently, any plant is a fantastic addition to your home.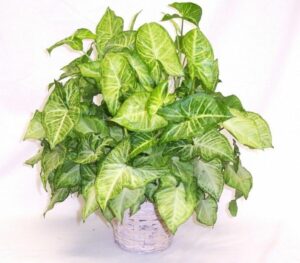 First low light plant in this section is the Syngonium podophyllum or arrowhead plant. You can easily see how it got its common name, arrowhead plant. The leaves resemble arrowheads! This plant likes to be kept moist but occasionally can dry out between watering without harm. It likes humidity so check the soil frequently during the winter when the heating system can remove a lot of moisture from the air to prevent your plant being over dry.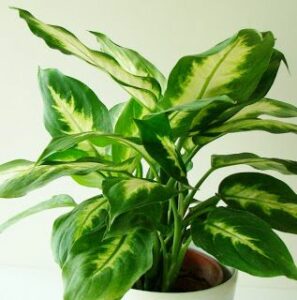 Next is the aglaonema or Chinese evergreen plant. This plant needs to dry out between watering. It can go up to three weeks between watering so if you are gone frequently this plant will fit into your lifestyle easily. This plant does not need fertilization and can survive in fluorescent light. As a result, you will see it thriving in an office environment.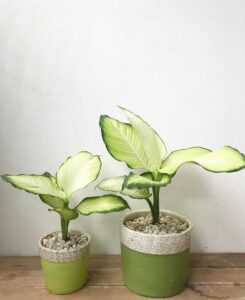 The next plant is a dieffenbachia. Dieffenbachia like to dry out between watering and do best in filtered light situations but do equally well in low light. In low light the plant growth will not be as great which is helpful if you want your plant to remain smaller. They do like a weak fertilizer solution especially in the Spring and Summer when it does the most growing.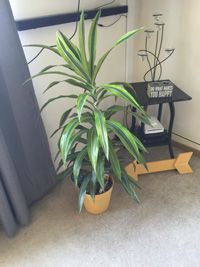 Another low light plant is dracaena or corn plant due to its resemblance to a corn stalk. Dracaena like low to filtered light and does not do well in direct sunlight. The leaves will sunburn and turn brown. This plant likes moist soil and to be allowed to dry out between watering. Therefore, check the soil with a finger if the soil is dry up to the first knuckle it needs water. This watering rule applies to all plants that like to dry between watering.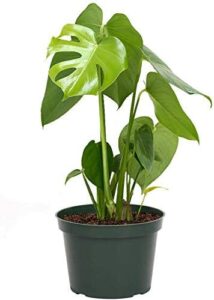 Next plant is the monstera plant. The monstera plant is commonly known as the Swiss cheese plant due to the holes in the leaves. It can be a large statement piece in your living room because they can grow large, if given the right conditions. The watering requirement is moist soil and allow to dry between watering.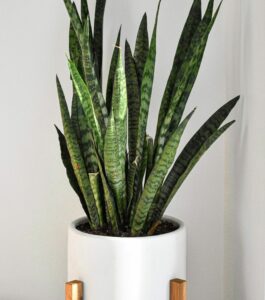 The sixth plant in this category is easy to grow and maintain. The snake plant's leaves twist and look like an undulating snake. It is also known as the mothers-in-law tongue plant. The snake plant has low watering needs, it can go weeks without watering. Water on a regular schedule when the top 50 percent of the soil is dry.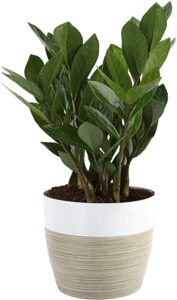 Lastly, is the ZZ Plant, which is low maintenance. It requires truly little water as it stores water in its rhizomes which can carry it through drought situations. Water this plant once a month with a 20/20/20 fertilizer and it will be happy.  
To recap, all the plants in this list can withstand low light situations and thrive. Think about your space and the time you can devote to your new plant. As you can see most require minimal maintenance as well as low light. As a result, any of these plants would make a fantastic addition to your home!