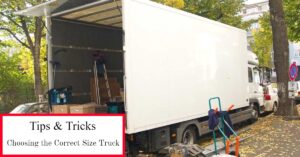 Choosing the Correct Size Moving Truck
You decided to move yourself. Now the biggest question; choosing the correct size moving truck? To help you choose, use the chart below to assist you. The truck size chart below is a standard guide to help you choose the correct size moving truck for your needs. Remember, this is a guide only and if you question if your belongings will fit, choose the next larger size! 
TRUCK SIZE CHART INDUSTRY STANDARDS 
10-foot truck: Use to move a studio apartment or a small 1-bedroom place

 

14-foot truck: Use to move a 1–2-bedroom place

 

17-foot truck: Use to move a 2-3-bedroom place

 

24-foot truck: Use to move a 3-4-bedroom place

26-foot truck: Use to move 4 or more bedrooms

 
If you have larger than average furniture or excessive furniture, like an extra couch or two refrigerators or all your beds are king sized. It is recommended you take a list of your larger items with you to the truck rental company. They will help you choose the correct size truck. If the rental agency does not have a size guide to help, you can use the chart above. As an added note, the industry standard is one room = 3 cubic feet of space in a truck. Remember this is an estimate only and when in doubt choose the next larger truck size. It is better to have too much space than not enough space.
How Do Truck Rental Companies Determine a Trucks Capacity?
The standard unit of measurement used is in cubic feet. This basically means the volume of a cube measured in feet. In other words, a cube is equal on all sides and each side is one foot long. This unit of measure is used to ensure that every inch of space is used. Therefore, the space from the floor to the ceiling and from the front to the back of the truck is considered in this measurement. Most people will not be able to utilize every inch of space. It is impossible to pack a truck with every inch of space being occupied. Because of this it is recommended to choose a truck slightly larger than you need.  
Add Ons to your Truck Rental
Some things to consider when moving. Does your car insurance cover you in a rental truck? If not use the insurance offered at the rental company. It could save you if an accident occurs. Then consider, if you have large pieces of furniture these oftentimes require additional space and extra moving tools to move safely. Using dollies and extra straps to hold them in place will save you and your furniture. To protect your furniture use furniture pads or blankets. Ask if the rental company provides these or do you have to provide them yourself. Knowing this will help you choose a good rental company and have no surprises on moving day. As always if you find you have too much stuff for your new place consider self-storage for your possessions.