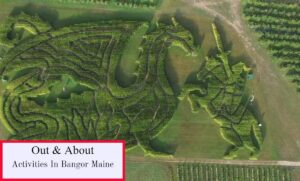 The best things to do in Bangor, Maine are often Free. Take a walk along many miles of trails or enjoying a day in one of the parks. There is something to do in Bangor year-round. The following list is broken into categories. Therefore, making it easier to find something you enjoy doing. Enjoy a family day of hiking, biking, eating, or playing games. Next, have an adult fun day of golf, games or touring the historic areas. These can be guided or on your own. Bangor offers a wide range of things to do.  
Historic Fun Time
Bangor is rich in history as it was first settled in 1769 and incorporated in 1791. Which means there is an abundance of historic sites and museums in the area.  First on the list would be the Bangor Historical Society Tours. The guides are knowledgeable and offer 7 different tours starting with the second oldest garden cemetery in the nation, Mount Hope Cemetery. Information on the tours can be found here: https://www.bangorhistoricalsociety.org/tours/ . Next is The Thomas A Hill House Museum, which includes a Civil War Museum and current home of the Bangor Historical Society. Open to the public during business hours. Third is the Cole Land Transportation Museum https://www.colemuseum.org/ followed by The Maine Air Museum http://www.maineairmuseum.com/page/942/home located near the airport.  
A memorial to the underground railroad is located at the Chamberlain Freedom Park. On the hill stands a memorial of a man exiting the underground railroad. His freedom only steps away or a stop on his trip further North to Canada. Bangor was in integral part in the route to Cananda. https://www.atlasobscura.com/places/chamberlain-freedom-park .
Close to Bangor, and worth a mention, is the Telephone Museum located at 166 Winkumpaugh Road in Ellsworth https://thetelephonemuseum.org/ . In Prospect, is Fort Knox and the Penobscot Narrow Bridge and Observation Tower well worth the trip. https://www.fortknoxmaine.com/ . Next in Bradley, Maine is the Maine Forest and Logging Museum. https://www.maineforestandloggingmuseum.org/ 
Family Fun Time
Need something fun to do with the kids? Bangor has something for everyone. First, enjoy some family fun time at any of these local attractions. Then take a walk in a local park.  Lastly, a things to do list in Bangor, Maine would not be complete without some of these great things for family fun! 
Adult Fun Time
Adult fun can be found at these attractions and many more. First, spend a day touring the local breweries. Then enjoy a night of fun at the Hollywood Slots.  As an adult fun day, visit one or plan a weekend around some of these attractions!
Art and Antiques
NOTIBLE Places
This is only a small list of things to do in Bangor, Maine. Bangor has a myriad of local restaurants to suit almost any specialty cuisine you desire. Therefore, if you are planning a visit to Bangor or live in Bangor there are many things to do to make your stay enjoyable. Plan a day or plan a week of fun and enjoy some of the many things Bangor has to offer!