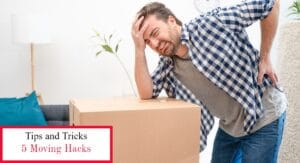 5 moving hacks to save you time. Moving can be the most stressful time of your life. Move frequently and you soon develop a set of skills that take a lot of stress from moving. Whether it is your first move or your thirtieth move around town, these five moving hacks can help remove some stress from an already stressful situation! Remember to utilize self-storage to help keep you organized and give you room to pack the rest of your home. 
#1 Moving Hack: Declutter Before You Move!
Moving hack number one: Declutter! Have you ever moved and found you spent a lot of time unpacking things you should have thrown away? The best time to declutter is before you move. Take a little time and go through your possessions. Throw away the things that have outlived their usefulness, donate the things that still have life left in them, but you cannot use in your new space. Host a successful yard sale to earn a little extra money for your move. No matter how daunting this task may seem it is the number one thing you can do to facilitate your move. You will be grateful you took the extra time when you unpack fewer boxes and pay a lot less to a moving company.  
#2 Moving Hack: 

Plan Ahead

, Set Up Services 

at

 Your New Location.
Moving hack number 2: plan your services! Nothing worse than arriving at your new location only to find the cable company is weeks away from being able to come set up services or the gas company cannot come until next month to do a safety check. Who can go that long without gas for heat or to cook with? Set up appointments well in advance so you do not have to wait for the necessities! Imagine the stress of trying to unpack with no electricity. All this stress can be avoided with a little planning. Set appointments for services as soon as you have a move in date, some companies have long waiting lists.
#3 Moving Hack: Organization 
This has saved lots of time. Choose a color for each room of your house, red for the kitchen, blue for the bathroom, green for the living room. Purchase packing tape in the chosen colors and place them in the room that they represent. Now when you pack a box the tape will be readily available and all the boxes from that room will be color coded! This is a valuable time saver when it comes to unpacking the moving truck. Instead of spending time reading the contents of the box or looking for what room it is labeled for you can tell immediately what room to take the box to by the color of the tape. If you use totes utilize the same principle same-colored totes for each room. Florescent orange is great for fragile items, it stands out and is an instant warning that caution is needed.
#4 Moving Hack: Packing Material
Moving hack: spend less on packing material with this hint! Save on expensive packing materials by using towels, washcloths, linen napkins, and other soft materials to wrap fragile or breakable items in. Fragile items need extra care and cushion to protect them during a move. Bubble wrap and other packing materials can be expensive so why not utilize cloth items that are going in the same direction. Use your washcloths, hand towels and dish towels to place between plates or to wrap your coffee cups or glass drinking glasses up with them. The thicker padding of the material will cushion these items and provide a tighter pack in the box. Excess space allows fragile items to move and increases the chance of breakage. It is not recommended you use old newspapers as the ink will transfer to your plates and glasses. 
#5 Moving Hack: Unnecessary Packing
Why put your clothes in boxes? Moving a bureau full of clothes is a heavy undertaking, instead remove the drawers from your bureau, leave the clothes in it. Move the bureau onto the moving truck and then reinsert the drawers. When you unpack the truck take the drawers out again and move the bureau into the bedroom and insert the drawers. It will save you time and money. Less boxes to move, less time and less space in the moving truck.
There are many moving hacks to save time and money plus reduce stress. Once you have moved a few times they will become second nature. The 5 hacks listed above are simple and can assist whether it is your first move, or many moves later. Consider using self-storage as an option at your new destination. If a box cluttered environment will stress you out, put all your non-essential boxes in self-storage. Once you have dealt with the essential boxes a quick trip to self-storage unit for a small load will lessen the box clutter and make the move easier. You will have control over the number of boxes in your space, instead of every box you packed jammed into your new home. Let's face it anything you can do to make a move less stressful is a bonus!