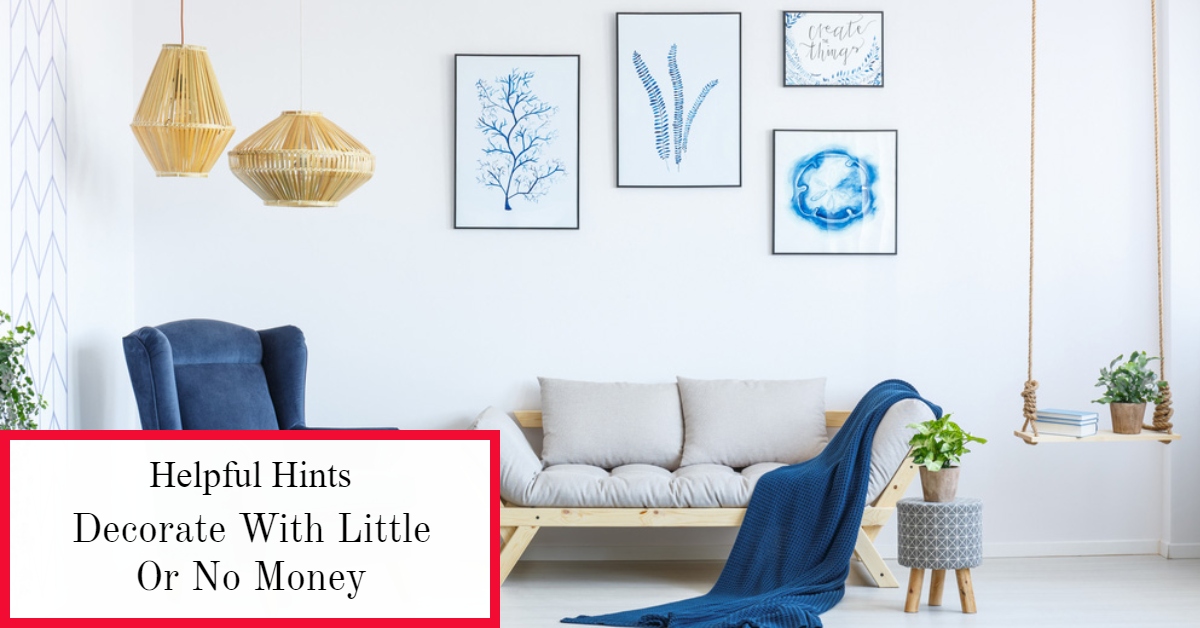 Decorate with little or no money
There are several ways to decorate with little or no money. No one way is better than the other, it all comes down to what style suits you. First question needs to be homeowner or rental? A rental will have restrictions on what you can do to the space. Be sure to check with the property owner and know your limits before you decorate. Next, is there a theme such as coastal, mountain retreat, fairy oasis, woodland paradise, urban modern, shabby chic, or art deco. Secondly, consider what category or style your current belongings fit into. Many things can be used in several styles or with a little updating turn into a fresh look. Reusing current items will make it easy to decorate with little or no money.  
Once a style has been chosen, go shopping in your own house. Pick out the items that complement the decorating style choice. Sometimes a minor change will be needed to update them to the fresh style. A new paint color or adding accents to freshen an old item will be needed before they are used in the update space. Creativity plays a huge role in this process. In other words, do not look at the item as it is, think about what it could become. Lastly consider the following options to help you decorate with little or no money.  
Decorate With No Money
Nothing is more frustrating than needing to update a room or the whole place and have no money to change the décor. Decorating with no money does not mean impossible, it means being creative and spending your time not your money. In other words, instead of instant gratification it means waiting for the finished product. Knowing this ahead of time can save frustration.  
A fantastic resource is the "free" sections in Facebook Marketplace or Craigslist. Spend some time checking for items close by that will fit the updated style. If they need to be painted, have accents added or can be combined with another item to create a masterpiece be sure you already have those resources.  
Another decorating tip is to look at how the space is laid out. Would moving the furniture create a new feeling, create better flow? Take some time and rearrange a little. Pull furniture in to create an intimate setting, move it out to create an open airy space. Play around a little and find an arrangement that works well in that space.  
Plants add so much to a space. They bring nature inside and go with every decorating style. Ask your friends if they have any plants they can share. 
Shop your space. In other words, go room to room picking items you already own. Then find related items, group them together in a new centerpiece for the living room or the dining room table. This is a wonderful way to display a collection while changing the style of a space. If you have some leftover paint from other projects, paint some of the Knick knacks all the same color. This will pull them together into the fresh style. This tip can also be used on mismatched furniture. Painting them all the same color makes them a new stylish set. Reuse, Repurpose and Reposition is a great decorating with no money mantra! 
Other Nearly Free Options:
Considering the newly found items in your home, would a little fabric or paint update them into a "new" decoration. For instance, an old clay plant pot with a little paint and a little fabric glued into the bottom now becomes a new brush holder or pencil cup. This works great if you have left over paint from other projects, let your imagination run wild. 
Do you own a printer? This is a great tool to create artwork easily. First, search online for something interesting. Next print and frame. Easily update the artwork in any room this way. Lastly create some original artwork to frame for the walls. Originality brings a whole new feel to any room.  
Pallets can be repurposed into many items with a little work. Create wine racks, shelves, bookcases, and yard decorations that can be decorated or painted in any style. Pallets are free in most instances. Find a design for the free pallet online and gather the supplies needed. The biggest investment will be time in this type of project.  
Small Cost Ideas
Money is tight but a few dollars can be spared for decorating so what are the options? A quick trip to the Dollar Store, Goodwill, or the Restore can help update a room with minimal cost. Remember to think of the item as you need it and not as it is. Fresh paint or a little bling can make the mundane into a centerpiece in no time. Consider stopping at a yard sale or visiting the local secondhand shops.  
Simple updates such as curtains or throw pillows can change the flavor of a room instantly and can be inexpensive to purchase. Little baskets can add texture to a room for a great contrast. For example, use a basket as a planter. Be sure to check that the planter has a base, or the basket will be ruined quickly from the water. This is a great contrast between the rough basket, the smooth green plant, and the shelf it is nestled on. Simple inexpensive things can quickly change any room décor. Consider purchasing a few candles of different heights and grouping them together to create a centerpiece or focus point in a room.  
Updating a bathroom can be as simple as adding a small rug or changing out the shower curtain. These options require a small investment usually under Twenty dollars and can bring new zing to this room. Small throw rugs in bright colors can add pop to a room or even be hung on the wall as wall art.  
Other Inexpensive Options To Freshen A Room
Left over paint can be used to create a different colored wall which can be an accent wall. Use compatible colors for harmony or be bold and use opposite colors for contrast the focus is on using what you have available to create a new décor. Choose a wall and use removable wallpaper to create an accent wall as well. As always if you are renting check with the property owner before painting or wallpapering,  
There are many ways to decorate with little or no money. Use imagination and resources in the home to save money. Spend a little time thinking about a style that would work and focus on items that fit that style. Look at the flow of a room and how it interacts with the next room sometimes only changing one room will create a whole fresh look for the entire space. Remember, to decorate with little or no money use this mantra, Reuse, Repurpose and Reposition!