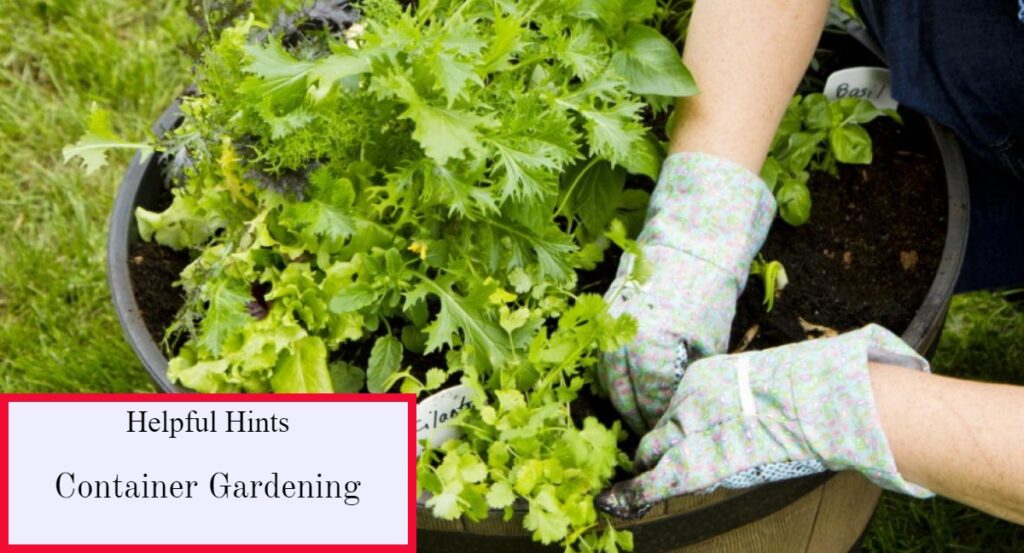 Container gardening has become popular in recent years. A container garden is a wonderful way to obtain fresh produce even if you live in a rented apartment, home or have limited space to grow. However, this method of growing has its limitations and does require a commitment of time and energy. First, knowing which vegetables will grow in containers, not all vegetables like the limited space. This information will help gain the best results from a container garden. Next, is the light requirements for the vegetables and herbs to grow properly. Without the proper amount of sunlight, the plants will not thrive. Lastly, information on days to harvest will play a key role in choosing the types of vegetables to grow in the container garden. Therefore, research is needed before choosing to do container gardening.  
What plants do best in

Container Gardening

.
Container gardening vegetables and herbs are limited to the space in your container for the root system. Hence, a small container should be used for small plants that do not have large tap roots. A small container would work great for loose leaf lettuce, spinach, small kale varieties, and romaine lettuce. Each one of these would do well in a small container. The great aspect of lettuce and spinach is that you can continue to harvest off the same plants for an exceedingly long time. Every couple of days clip the outer leaves and more will soon grow from the center of the plant. Another great option for smaller containers is herbs. One herb plant per small container works well. Popular herbs to grow are basil, rosemary, parsley, mints, cilantro, oregano, and dill. Require larger plants to meet your needs? Five-gallon buckets work great for larger plants!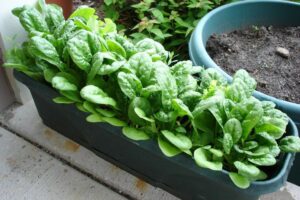 Buckets at least five-gallons or more can be used for container gardening. In fact, they are fantastic for larger plants and herbs. Five-gallon buckets can be purchased at most hardware stores. If you recycle them only use buckets that have been used for food items. Never use buckets that have been used for toxic chemicals, paint, or Chlorine storage. Especially since after being thoroughly cleaned they can still be contaminated. As a result, the plants will absorb any contaminants through their roots system. Who wants to eat vegetables that have toxic chemicals infused in them? Yuck! 
Five-Gallon bucket

gardening
Container gardening with 5-gallon buckets can produce a lot of vegetables or herbs for food. First, drill some drainage holes in the bottom of the bucket. Drainage is critical as most plants do not like their roots to be submerged in water. Plants require plenty of drainage. Secondly, place a small amount of sand or small sized gravel in the bottom of the bucket. Gravel or sand will help with drainage and prevent roots from being overly wet. Next, use a blend of excellent quality potting soil, some peat moss, and compost to fill the bucket. This mixture will help meet the requirements of most plants grown in a container garden. Do not use soil from a garden or yard. Garden soil will compact and will not drain properly or hold the moisture needed to grow the vegetables and herbs.
Now comes the exciting part, planting the seeds or seedlings of choice. When using seeds plant according to the package recommendations. If using seedlings, be sure they are hardened off especially if living in colder climates. Hardening off is a method of introducing a seedling grown inside to the cooler environment of the yard. This can be done over the course of a few days by choosing a spot protected from the wind and leaving the seedling outside for longer periods of time slowly introducing them to the cooler evening temperatures. After a few days they should be ready to plant in the 5-gallon bucket. 
How many plants should be planted in a five-gallon bucket? The answer depends on the type of plant. Use the following guidelines for maximum harvest.  
5-gallon bucket guidelines for plants
Tomato varieties are cherry, grape, small, slicing and beefsteak. They require plenty of water and sunlight to grow. One plant per bucket with a support. Support can be a stake driven deep into the soil beside or a tomato cage. Ultimately, make sure the stake is long enough to support a fully grown plant. Tie the plant to the stake as it grows to provide the proper support.  
Cucumbers, squash, zucchini, and melons can be grown in containers, 1 plant per bucket. They will need a trellis to grow on. Why a trellis, these plants grow on long vines and if left on the ground, the fruit can become dirty and subject to pest. On a trellis the fruit will be easier to pick, stay clean, and pest will find it harder to steal your harvest!  
Eggplants are great container plants. They thrive best when planted one plant per bucket with a companion plant like marigolds, borage, or most herbs. Companion plants are plants that provide a beneficial service to each other. For example, eggplants do not have pretty blossoms to attract pollinators. Marigolds, borage, and herbs have fragrant bright blossoms that pollinators love. Therefore, the eggplant will stand a greater chance of pollination if it has a companion plant.  
Peppers of all varieties do best if planted 2 per bucket. They require lots of sunlight and prefer warm places. When choosing beans, chose a bush variety to avoid staking and plant 3 plants per bucket. Next, the plants that can thrive with 4 plants per bucket are lettuce, beets, and onions. Lastly plants that can handle 10 plants per bucket are peas, carrots, and radishes. Be aware of the height of the pea variety.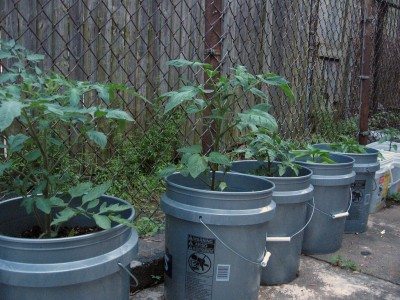 Plant requirements
for container gardening
Container gardening plants all need sunlight to grow. Hence it is best to place the containers in a spot that has at least 6 hours of sunlight. Some plants like tomatoes, eggplants, melons, cucumbers, and string beans will thrive in more hours of sunlight. While other plants like lettuce, spinach, peas, and radishes can handle less sunlight and will thrive in partial shade. Uniquely they enjoy the cooler temperatures. Therefore, knowing how many hours of sunlight a location has will help determine which plants to grow there.  
Water is crucial to the survival of all the plants. Tomatoes, cucumbers, melons, peppers, and squash (summer and winter varieties) are heavy water users. Sometimes requiring watering two times a day during the hottest part of the growing season. A good test to see if plants need watering is to insert a finger up to the second knuckle into the soil. If it is moist all the way down to the tip of the finger it is moist enough for now. On the other hand, if the soil does not feel moist it is best to water. Lastly, underwatering will stress a plant which can affect overall health of the plant. An unhealthy plant is more susceptible to disease and pest. Therefore, keeping the plants happy will result in a healthier plant and better harvest.  
Container gardening plants also require nutrients to grow. While most potting mixes may come with a fertilizer already in the soil, some do not. If you want an organic garden, choose a soil that is not commercially fertilized and use plenty of compost. Even with this combination a plant will need extra fertilizer when it is growing and blooming. Therefore, adding a good liquid fertilizer during these times will benefit the plants.  
Miscellaneous

container gardening

.
Space is a consideration when container gardening. Limiting the number of plants will help with airflow, which will prevent powdery mildew. Another consideration when choosing plants is the days to harvest. This information can be found on the back of seed packets or on the plant identification tags of seedlings. The shorter the days to harvest the better, especially in cold climates. 
Another great aspect of having a container garden is the educational benefits to young children. Watching a plant sprout from a seed and growing to maturity offers many educational opportunities. Explaining all the plant parts, to how a plant takes in sunlight and nutrients from the soil to grow our food are valuable lessons. These lessons will help build future gardeners.  
If space allows. growing a few buckets of potatoes can be rewarding. A half barrel planter can produce 10lbs of potatoes or more. The method to grow potatoes in a bucket or barrel is simple.
First, take two good eye cuts from a seed potato. A seed potato has white or sometimes purplish colored growths on the potato (see image below). Each one of those growths is a new plant. The secret is to leave enough potato with the eye for the plant to start. Therefore, leave some of the old potato with the white growth. Next, put about 6 inches of soil in the bottom of the barrel or bucket. Plant the two seed potatoes and barely cover over with more soil. When the plant starts to grow keep covering it over until the bucket or barrel is full. Once the barrel is full allow the plant to continue to grow, after it blooms, and the plant dies dump the bucket out and harvest the tasty spuds!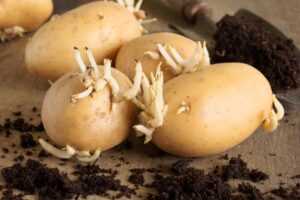 Summary of

Container Gardening
To summarize, whether a beginning or a seasoned gardener container gardening is a great alternative for growing fresh produce. Specifically, if space is a consideration. Regular gardens require land and a lot of time. Unlike container gardening which requires less time and space. In conclusion, with the increasing popularity of container gardening it has become easier to grow fresh vegetables for renters and property owners who have little or no space for a large in-ground garden.