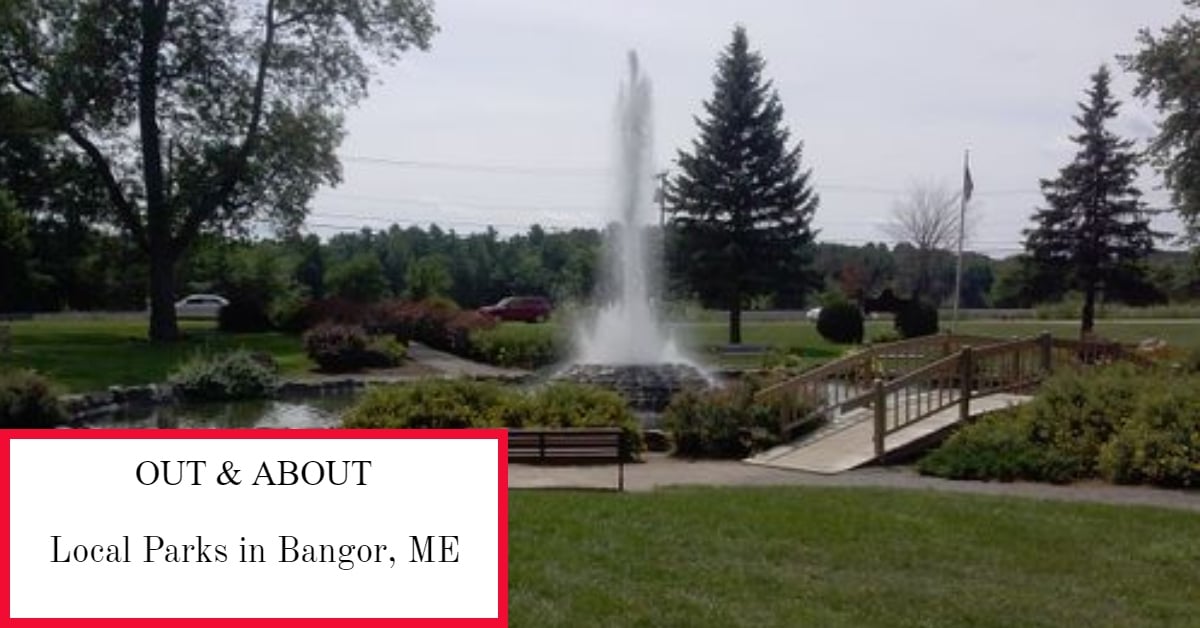 There are several local parks in Bangor, ME. Each park has its own beauty or provides a unique experience. Knowing what to expect at each park will help you decide which park to visit. Local parks provide a place to visit, to connect with nature, and some time to relax. Other parks provide exercise or a way to play and use some energy. One local park in Bangor, also offers entertainment in the form of music events. These parks cover a wide range of recreational needs. Therefore, if you are in the Bangor, area visit or play at one of the local parks!
Large Local Parks In Bangor, ME
Cascade Park ~ 600 State Street  
Cascade Park was built in 1934. The park is for picnicking, relaxing and quiet family walks. Part of the fun is watching the man-made water features or the Penobscot River views. Walking along the half mile trail that loops through white pines, one can view the top of the 20ft waterfall. This manufactured waterfall cascades into a pool and travels along a small stream ending at the water fountain. Further along the trail a foot bridge crosses the little stream bringing you back to the picnic area.  
Next, Cascade Park offers a shaded picnic area. As well as park benches for sitting and relaxing. While sitting you can enjoy the water fountain. The water fountain jets 25ft into the air and changes shape. After dark, the water fountain is illuminated with an array of colors. Lights also shine down the waterfall lighting it up for everyone to see. 
Lastly, if connecting with nature is your goal without traveling far away, Cascade Park may satisfy that goal. The short trail offers a chance to reconnect with nature. While sitting at a bench you may see birds, squirrels and occasionally a deer. Plus, the views of the Penobscot River across the road bring the awe of the power of nature especially in the Spring with the high rushing water.
Other Large Parks 
Saxil Park ~ Mount Hope Avenue 
Saxil Park is a series of 206 miles of looping trails. They loop through 75 acres of field with a small pond. Along the way there are benches to sit and enjoy the wildlife. Saxil Park is great for birdwatching and enjoying a little fresh air. This park shares a border with Cascade Park.  
Bangor Waterfront Park ~ 55 Railroad Street 
One of the larger local parks in Bangor, it is a 58-acre park along the Penobscot River. The park includes the marina. It has large open areas with picnic tables. Plus, a 2-mile easy walking trail that offers benches, shaded areas, and relaxing views of the river. During the summer months an open-air amphitheater is used to host music concerts.  
Broadway Park ~ 250 Broadway Street 
This park runs parallel to Broadway on both sides of the street. One side of the street is a large grassy area that is tree lined. A terrific location to sit and watch the world go by or read a book. On the other side of the street is another large grassy area great for playing. It sports a playground and picnic area. Dogs are welcome but remember to remove any byproduct of your pets visit and dispose of it properly. 
Bass Park ~ Bass Park Boulevard 
Bass Park host the Bangor State Fair every summer. It has been the home of harness racing for many years. Harness racing begins in the Spring and runs through the summer months. 
Small City Parks
These local parks in Bangor are small areas to sit and enjoy what is going on. Whether it is a street musician or watching people go about their lives. They offer a shaded area to sit and enjoy the day. 
Broad Street Park ~ 200 Broad Street 
Broad Street Park sits on Broad and Water Street, with several trees and benches. The cobblestone center of the park has the old downtown feel of the city.  
Davenport Park ~ 245 Main Street  
The battleship Maine is memorialized in this park. The shield of the Maine is on display. The park is full of shade trees. Another feature is the hill which is great in the winter months for sledding.  
Norumbega Parkway ~ Franklin and Central Streets 
Norumbega Park is in downtown Bangor and is an island in the Kenduskeag Stream. When in downtown take a few minutes and enjoy this little oasis in the middle of the concrete and tar. It is home to the war memorial to recognize all who have died in war.  
Paul Bunyan Park ~ Main Street 
Rarely recognized as a park the Paul Bunyan Park host the 31-ft tall statue of Paul Bunyan and is the city's second most popular place to visit. People can be seen at most times during the summer months having their pictures taken with the massive statue. 
Summit Park ~ 40 Thomas Hill Road 
Home of the Thomas Hill Standpipe which holds 1.75 million gallons (about twice the volume of an Olympic-size swimming pool) of water. The standpipe can be seen for miles around. It stands 110-ft tall. The park is a quiet location with splendid views. A beautiful place to relax.  
Parks With Playgrounds, Pools, and Basketball Courts
Bangor Gardens ~ 70 Knox Ave 
Bangor Gardens Park features a playground, paths for walking and a basketball court. During the summer months Bangor Parks and Recreation host programs for children. In the winter months, part of the park is flooded to provide a place to go ice skating.  
Chapin Park ~ 75 Forest Ave 
Chapin Park has a playground, walking paths, and a vast area to play on green grass. Children's programs are offered in the summer and ice skating in the winter. Plus, there are benches to enjoy the shade during the hot summer months.  
Coe Park ~ 130 Court Street 
Coe Park is a small neighborhood park. It has a playground, basketball hoop, and plenty of grass to play catch or toss a football on. They offer summer recreation programs for children. 
Dakin Park ~ North Park Street 
Dakin Park has a swimming pool and a basketball hoop. The walking trails are easy at Dakin Park. Grass and tree lined area for recreation and relaxation.  
Downeast Park ~ 100 Moosehead Blvd 
This Park is at the Downeast School with a playground and space to run for children.  
Fairmont Park ~ 80 Norway Road 
Fairmont Park has a playground, basketball hoop, and pathways for walking. It has some shade trees and offers programs in the summer. Then in the winter they have ice skating for everyone.  
Hayford Park ~ 13th Street  
One of the larger local parks in Bangor, it provides a creative playground, basketball court, and two well lite tennis courts. There is a new skateboarding park. It also has a public swimming pool and a small softball field. On site is the Sawyer Arena and the Mansfield Stadium. There is a volleyball net with lots of grassy, open areas to run and play. This is a beautiful place to spend an afternoon playing and relaxing with the family.  
Little City Park ~ 40 Linden Street 
Little City Park sits between Linden Street, Leighton, and Norfolk Street. It has a playground along with tennis courts. You can sit in the shade on a bench or enjoy the picnic table. There is lots of open space to run and play.  
Talbot Park (formerly 2nd Street Park) ~ 100 Second Street 
Talbot Park has a playground and a picnic area. There is a walking path through the park. Trees line the park offering a lot of shade in the hot summer months. It is the perfect place to sit and read either on the grass or under a shade tree.  
Stillwater Park ~ 325 Howard Street 
Stillwater Park has a large grassy area with lots of shade trees. It has a playground that is accessible. The benches offer a view of the park and are along the sidewalk for easy access. Picnic tables and a half basketball court offer a day of family fun. Summer programs for children are hosted by the city. In the winter months, the park is open for ice skating.  
Williams Park ~ 60 Newbury Street 
Williams Park is fenced in and features, playgrounds, basketball, and tennis courts. There are many shade trees as well as wide open grassy areas.  
OTHER LOCAL RECREATION AREAS
Bangor has many other recreational areas. Most are easily accessible. They offer longer walking, hiking, or biking trails. Check them out if a quiet day in a local park in Bangor is not challenging enough for you. First, check out the Essex Street Recreational Area. It is 70 acres for mountain biking and sledding in the winter months. Plus, it has an outdoor volleyball court, basketball court, and walking trails. Next, consider Prentiss Woods with its 35 acres of walking trails. Also, Brown Wood with 28 acres of walking trails. In other words, there are several local parks in Bangor, ME with a wide variety of things to do.